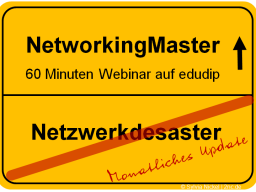 Das persönliche Netzwerk ist für Beruf wie Privatleben gleichermaßen wichtig. Dabei gilt: Networking ist kein Selbstzweck! Es geht weder um das Sammeln von Visitenkarten, noch um eine große Anzahl irgendwelcher LIKEer, "Freunde" oder virtueller "Kontakte". Ein wirksames Netzwerk bedarf regelmäßiger Pflege, um Früchte zu tragen, ob real oder digital.

Im monatlichen Update befassen wir uns mit einem Schwerpunkt. Thema im März 2015:

>> XING - Das Networkigtool

April: Pay it forward. Das Glücksprinzip im Netzwerken.
Dial-in available
Information: How the telephone dial-in works
Please log in to watch the participant list.