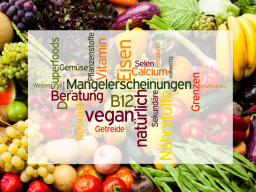 Vegan aber richtig!
In Health, Medicine > Nutrition
Language:

German

Video price:

150.00 € incl. VAT

Video duration:

12 hours and 34 minutes
A recording of this webinar is available.
Dieser 8-teilige Online Kurs richtet sich an Menschen, die andere im Bereich der veganen Ernährung beraten (zum Beispiel in Lebensmittelläden, Hotels, etc.) und deshalb tiefer in die gesundheitlichen Auswirkungen einsteigen möchten. Dabei ist die vegane Ernährung längst nicht mehr eine einheitliche Ernährungsweise. Manche schwören auf low carb, andere auf Superfoods und wieder andere auf reine Rohkost. Die DGE warnt immer noch vor möglichen Mangelerscheinungen und von Seiten der meisten Ärzte und Gesundheitsexperten erfährt man ebenfalls hauptsächlich Ablehnung oder Skepsis.

An 8 Sonntagen erhalten Sie einen systematischen Überblick über Nährstoffbedürfnisse, Mangelerscheinungs-Symptome, natürliche Quellen der wichtigsten Nährstoffe. Wir sprechen auch über die Vor- und Nachteile bestimmter Ergänzungspräparate.

Die Webinare werden aufgezeichnet – stehen somit den Teilnehmern zur Verfügung, wenn Sie mal ein einem Live-Termin nicht teilnehmen konnten oder etwas noch einmal anschauen möchten. Ein geschlossenes Forum hilft beim Austausch zwischen den Seminaren .

Wenn Sie an einer Teilnahme interessiert sind, schicken Sie mir bitte eine kurze Nachricht, in welchem Bereich Sie andere beraten.