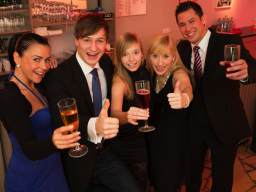 How to Make the Most Out of Your Next Networking Event
In Occupation, Career > Carreer
Language:

English

Video price:

for free

Video duration:

1 hour and 5 minutes
A recording of this webinar is available.
In this week's webinar, I have the honor to welcome my special guest, Slava Jefremov.
Slava is a serial entrepreneur & networker with a passion to create extraordinary lives for those around him. He is a former team communications member of the Presence Switzerland at Sochi Olympics and currently acts as Country Manager at one of the top 5 UK startups.
Slava loves giving speeches and eating Swiss ice cream.

In this 60-minute live webinar, you will learn:


- Why Selecting the Right Event Makes All the Difference
- How to Set Yourself up for Success Before the Event
- 3 Things You Must Always Have with You
- How to Use the Bar & Catering to Your Advantage


The webinar starts on Wednesday, 23rd July 2014 at 7pm CET.
Space is limited, register now.