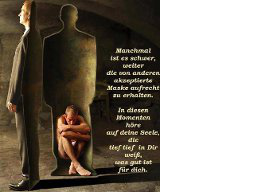 Erlöse deine Lebensdramen!
In Personality > Self-management
Language:

German

Video price:

for free

Video duration:

2 hours and 2 minutes
A recording of this webinar is available.
Wir alle stecken in tief unbewussten Lebensmustern und -rollen fest, die verhindern, dass wir ein authentisches Leben führen: Das Leben, das in jeder Weise uns gerecht wird.

Es wiederholen sich Dramen, die von Mal zu Mal schmerzhafter werden, weil sie nach Erlösung rufen. Teilweise nehmen sie uns völlig gefangen. Wo wir die Dramen als solche erkennen und auflösen, wird die Kraft zur Authentizität und zum LEBEN frei.

- Wie erkennst du deine Dramen?
- Welche Zerstörungsmuster wirken auf dein Leben ein?
- Wie kannst du sie in Lebenskraft transformieren?