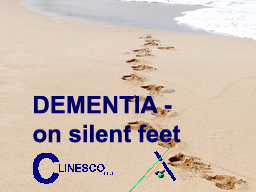 Webinar about cause, symptoms, diagnosis, and specific problems of Fronto-Temporal Dementia, a severe type of Dementia affecting people in working age.
Dementia is a set of symptoms describing cognitive decline. There are many underlying causes of Dementia and Dementia like symptoms. Some of them, such as Fronto-Temporal Dementia affect people already in working age which may cause specific problems in the work place and within the family. Everybody can develop Dementia - already in young age.
Clinesco Limited is a member of the UK Dementia Action Alliance.

Please note that there is a slight possibility of a disturbance regarding internet based webinars (e.g. sound) which are not necessarily caused by the computer system of the organizer. Should such a disturbance occur, please continue your participation at least for further 5-10 minutes and describe how the disturbance shows. This may contribute to a quick resolution. Thank you.