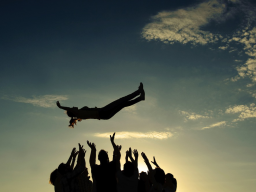 How to Build Relationships with People Who Can Transform Your Career
In Occupation, Career > Carreer
Language:

English

Video price:

5.00 €

Video duration:

59 minutes
A recording of this webinar is available.
How different would your career look like if you had strong relationships with people who can open any door for you?
How much faster would you move towards your dreams and goals if you knew the movers and shakers?

Establishing strong relationships with people who can make things happen for you is crucial if you intend to be the master of your career.
Ask any successful CEO or other leader and they will tell you a major ingredient for their success is other people.

Without strong relationships with influencers, your career development is very limited by economic conditions.
However, if you establish strong relationships with these people and build trust over time, you become a member of their inner circle and are only limited by the reach of your network.

In this 60-90 minute live webinar, you will learn:


- 5 reasons why knowing influencers is essential for creating a world-class career
- 3 mistakes that prevent you from meeting influencers
- How to find & reach out to influencers
- How to build trust with influencers so they want to help you transform your career


The webinar starts on Wednesday, 11th June 2014 at 7pm CET.
Space is limited, register now.