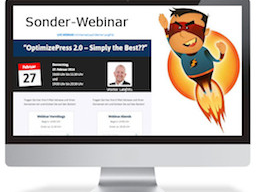 A recording of this webinar is available.
ACHTUNG! Wenn Sie keine Gelegenheit hatten, das offizielle Einladungvideo zu sehen - hier ist Ihr Link:
http://webinare.motivation-erfolg-reich.de/optimizepress-2-deutsch/

Ich möchte Sie ganz herzlich zu meinem kostenlosen Online-Seminar "OptimizePress 2.0 - Simply the best??" einladen.

Was erfahren Sie im kostenlosen Webinar?

- Wie Sie massenweise kaufhungrige Kunden generieren und Ihre E-Mail Liste geradezu explodiert.
- Wie Sie gelangweilte Besucher in glückliche Kunden umwandeln.
- Wie Sie Ihre Verkäufe durch die Decke gehen lassen.
- Wie Sie Ihre Kunden vor Begeisterung fesseln und nicht mehr loslassen und Ihnen so dauerhaft als Kunden erhalten bleiben.
- Wie Sie Ihren Webinarraum in Lichtgeschwindigkeit füllen.

Jetzt kostenlos anmelden!!

Herzliche Grüße
Ihr Werner Langfritz
(Gründer WordPress Akademie für Internetmarketing)

P.S.: Wenn Sie Ihr Online-Business auf die ultimative Stufe katapultieren wollen, dann melden Sie sich zu diesem kostenlosen Webinar an und freuen sich mit mir zusammen auf dieses einzigartige Event!