Heiko T. Ciesinski - Der Unternehmer-Coach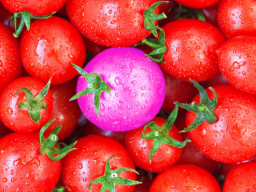 Was haben Tomaten mit Marketing zu tun?
In Marketing, PR > PR
Language:

German

Video price:

for free

Video duration:

1 hour and 17 minutes
A recording of this webinar is available.
Aufsehen erregend!

Tomaten gibt es im Supermarkt in zig Variationen: klein, groß, rund, oval usw.
Die Auswahl ist damit zwar groß, doch für uns Menschen auch altbekannt.
Würde sich dagegen eine einzelne schweinchenrosa Tomate in die Masse schummeln, fällt sie jedem in der ersten Sekunde auf. Ich wette, Sie steuern direkt auf das rosa Ding zu, nehmen es unter die Lupe, fassen es an und sind ganz entzückt von diesem Exoten.

Ertappt? Menschen sind eben immer neugierig und werden von auffälligen, exotischen Dingen magisch angezogen wie die Fliegen vom Marmeladenbrot.

Auch Ihre Werbung sollte auffallen!
Warum? Weil das, was alle machen, kaum spürbare Effekte erzielt und damit weniger erfolgreich ist als exotisch auffällige Aktionen. Es gibt unzählige gewöhnliche Werbemaßnahmen, die ähnliche Wirkung erzielen wie die zwar zahlreichen, jedoch gängigen bekannten Tomatensorten, die wir im Supermarkt antreffen. Sie reißen uns eben nicht mehr vom Hocker.

Hand aufs Herz: Was haben Sie bereits alles versucht? Haben Sie damit Ihre Ziele erreicht?

Zahlreiche Kunden gewonnen?
Ihren Expertenstatus gefestigt?
Mehr Umsätze generiert?

Exoten in der Welt der Werbung und doch ganz unspektakulär bodenständig, obendrein günstig und genial erfolgreich zur Erreichung dieser drei Ziele sind Podcasts also Mini-Audios bzw. Mini-Hörbücher für Ihr Unternehmen. Wie genau sieht so etwas aus, welche Vorteile haben Podcasts, Einsatzmöglichkeiten usw. erfahren Sie im kostenfreien Webinar.


Erfahren Sie vom Herausgeber des Marketing-Podcast, wie er es innerhalb weniger Wochen geschafft hat, Platz 2 der weltweiten Podomatic-Charts in der Kategorie Marketing zu erreichen. Damit ist es der beste deutsche Marketing-Podcast. Mit mittlerweile über 60.000 Abonnenten.