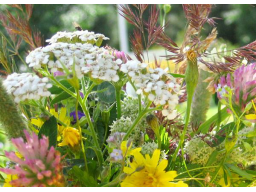 Bachblüten - ein Weg des "Heil-Werdens"
In Health, Medicine > Homeopathy
Language:

German

Video price:

55.00 € incl. VAT

Video duration:

1 hour and 16 minutes
A recording of this webinar is available.
Einführung in das System des Dr. Eduard Bach mit seinen mittlerweile weltbekannten Bach-Blüten zur ganzheitlichen und natürlichen "Heilung".
Genaue Anwendungserklärungen, hilfreiche Tipps für Körper, Geist und Seele.

inclusive ausführlicher Lehrgangsunterlagen.

Bitte achten Sie darauf, dass Frau Gellisch jedes Webinar bis zum Ende führt, sodass die angegebene Zeit bei Bedarf deutlich überschritten werden kann, auch damit die bei den Teilnehmern auftretenden Fragen ausreichend besprochen werden können.

Wenn die Technik es erlaubt, wird dieses Webinar aufgezeichnet, so dass Teilnehmer, die sich verspäten oder es nicht ansehen konnten, die Gelegenheit bekommen, dies nachzuholen.