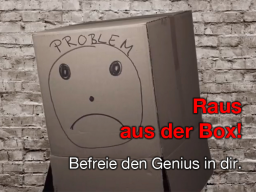 Wie dein genialer Geist alle Probleme selbst erschafft und wie du spielerisch lernen kannst, deine Probleme zu lösen oder zu genießen.

Das einzige Hindernis zwischen uns und Freiheit und Gelassenheit ist das Gefängnis des eigenen Geistes. Die Lösung für jedes unserer Probleme existiert bereits... nur eben außerhalb der Begrenzungen des eigenen Verstandes. Stell dir vor, du könntest die Box deines Problems spielerisch verlassen.

Think out of the Box! Überrasche dich selbst. Befreie deinen Geist.

Interessant für Menschen, die generell an mehr Freude und Freiheit im Spiel des Lebens interessiert sind und besonders für jeden, der gerade eine konkrete "Nuss" zu knacken hat.