Janine Berg-Peer - SCHREIBEN . VORTRÄGE . COACHING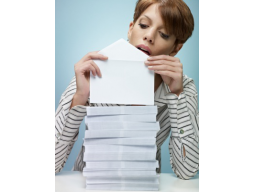 Lebensläufe - gut vorbereitet - leicht umgesetzt!
In Occupation, Career > Carreer
Language:

German

Minimal attendance:

4

Video price:

for free

Video duration:

4 hours and 45 minutes
A recording of this webinar is available.
Wie schaffe ich es, ein passendes Bild von mir, meinen Fähigkeiten und meinen beruflichen Erfolgen in einen Lebenslauf zu bringen? Welche Arten eines Lebenslauf passen am besten zu mir?
Es ist nicht leicht - trotz meines Titels. Aber man kann es schaffen - wenn man es gut vorbereitet. Wissen Sie, was Sie können? Stehen Ihre Erfolge im Lebenslauf? Haben Sie sich überlegt, was der Leser oder die Leserin Ihres Lebenslaufs von Ihnen wissen möchte und muss?

Bevor Sie in das Webinar kommen - schauen Sie sich Ihren letzten Lebenslauf noch einmal an - drückt er das aus, was Sie von sich veröffentlichen wollen? Bekommt ein potenzieller Arbeitgeber wirklich ein umfassendes Bild von Ihnen? Oder gäbe es noch viel mehr und Wichtigeres über Sie zu sagen?

Ist Ihr Lebenslauf zwar formal wunderschön, aber inhaltlich wenig aussagekräftig? Steht in Ihrem Anschreiben viel Überflüssiges, aber die Kernaussagen, die für das Unternehmen wichtig sind, fehlen?
Durchforsten Sie das Anschreiben nach Floskeln: "Herausforderung, "Teamplayer", "innovativ"?

Vielleicht haben wir auch noch Zeit für Fragen.