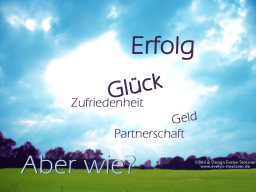 Wie geht das gesund +glücklich leben?
In Personality > Self-management
Language:

German

Video price:

21.00 € incl. VAT

Video duration:

1 hour and 2 minutes
A recording of this webinar is available.
Erfolg, eine feste Partnerschaft, Geld, Glück & Zufriedenheit - Aber Wie? Immer wieder fällt mir auf, daß wir zwar alle wissen, wir sollten positiv denken, jedoch tun wir uns immer wieder schwer in der Anwendung.
Ich habe selbst vor Jahren mit meinem eigens entwickelten System mein Denken umgepolt. Ja ich habe Dinge erreicht, wovon so manch anderer träumt.
In meinem online Vortrag, welchen ihr euch als Video ansehen könnt, gebe ich euch etwas sehr wichtiges an die Hand.
Leicht und verständlich erkläre ich alltagstaugliche Techniken um die eigene Herrschaft über sein Denken zu erlangen.
Beginnen kann jeder und alles ist möglich, es liegt an uns selbst. Und gerade unsere Gesundheit wird es uns danken.
Einfach dem Link folgen und dann Video buchen für nur 21€.
Ein Video das euer Leben verändern kann!
Liebe Grüße, eure Evelyn Störzner

In diesem Webinar erkläre ich die einzelnen wenigen Schritte. Teilnehmen könnt ihr auch wieder wie immer zusätzlich per Chat.

Es wird Zeit, daß auch du langsam in ein glückliches und erfülltes Leben gehst.

Zu Beginn sind ein wenig Tonstörungen, ich bitte dies zu entschuldigen. Der Vortrag selbst ist jedoch gut zu hören. Viel Spass.