Janine Berg-Peer - SCHREIBEN . VORTRÄGE . COACHING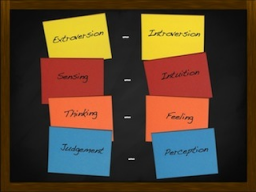 MBTI - Myers-Briggs Typenindikator: Wer bin ich? Was kann ich? Wie arbeite ich? Wie streite ich? Wer ist mein Gegenüber?
In Personality > Communication
Language:

German

Video price:

for free

Video duration:

1 hour and 6 minutes
A recording of this webinar is available.
Sie ärgern sich über unpünktliche Menschen? Sie finden Leute unerträglich, die zu viel reden? Ganz schlimm sind die Leute, die nie etwas sagen? Sie wollen nicht mit Menschen zusammen arbeiten, die emotional regieren? Sie hassen diejenigen, die für Sachlichkeit plädieren?
Sie mögen keine Nörgler, keine Besserwisser oder Rechthaber? Sie können einfach nicht verstehen, warum Menschen ganz anders sind als Sie? Es ist doch ganz klar, wie es eigentlich laufen müsste!
Wir müssen uns wohl oder übel mit Menschen arrangieren, die anders sind als wir und deren Verhaltensweisen wir nicht verstehen können.

Der MBTI hilft Ihnen, sich selbst und andere Menschen besser zu verstehen. Sie lernen, wie man Konflikte reduziert, wenn man nur einen Moment die Perspektive des andern einnimmt. Sie lernen, Menschen so anzusprechen, dass Sie verstehen, was Sie wollen. Sie verstehen, warum Menschen tun, was Sie tun. Und sie lernen, wie Sie auf andere Menschen wirken.
Der MBTI ist ein Führungsinstrument: Sie können Ihre Vorgesetzten, Ihre Kollegen, Ihre Kunden oder ihre Liebespartner besser "führen". Und - last but not least - auch sich selbst.

Im meinem kostenfreien Webinar erhalten Sie einen ersten Überblick über den MBTI.

Zu einem reduzierten Preis von € 50,- plus MwST. können Teilnehmer/innen ihren persönlichen MBTI bei mir machen. Wenn Sie daran interessiert sind, sollten Sie Ihr Ergebnis VOR dem Webinar haben.