Auf zu neuen Erfahrungen!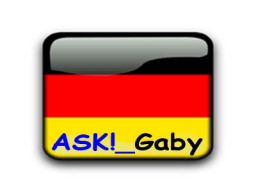 Understand the Germans through live Q&A!
In Management > Knowledge
Language:

English

Date:

on request
For all who are going to live and work in Germany
and for all abroad who deal with Germans or plan to expand business ... lets talk about the Germans and German life! Ask me your questions! Please use a headset, to ask me directly.

The webinar is not a ready-made lecture more a live discussion and customized presentation based on your specific questions and interest. Gaby will explain the strange German ways, gives recommendation what to do.

Your unique benefit - the live & direct contact to a German living in the capital Berlin, internationally and multi-culturally experienced by her working in Dubai for many years in the past.

Please note: Due to given time and number of participants maybe not all questions can be answered in detail during the session. Gaby will answer after or will come back to next session.
Profit from my introductory price.

I have got the final degree M.A. (Magister Artium) in communication. I m a certified,experienced trainer and tutor.
A German native living in the capital Berlin.
2005 - 2010 I lived & worked in Dubai.