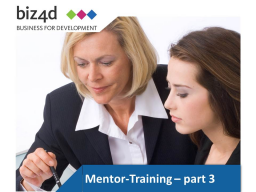 Due to the nationwide demand, the mentor training now also takes place as an online event.

Agenda:

Part I: Theoretical basics for mentors (1h)
Part II: Methods for the arrangement of mentor-mentee-cooperations (1h)
--> Part III: Q + A session (1h)

All parts build on each other, but can also be booked separately.

Part III: Q + A session

• Use this part of the course to ask any questions you always wanted to have answered, or which may come up during the webinar!
• Also, you can present your own case studies from everyday experience and become inspired through the interactive exchange with your experienced trainer and other participants.

Objective: Together we will ensure that you start your journey into mentoring with the ideal preparation!