Akademie von Janine Ulbrich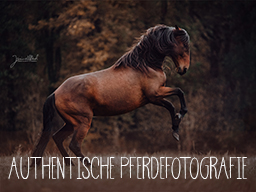 Authentische Pferdefotografie - Finde Deinen Weg!
In Kunst & Kultur > Photography
Price:

25.00 €

Number of participants:

maximum 100

Application deadline:

7 days before the start

Language:

German
Today, 21st Jul 2019, 12:30 pm - 02:30 pm
(GMT +02:00)
Registration deadline expired
Hast Du das Gefühl gerade "stecken zu bleiben", nicht in der Fotografie weiterzukommen und wünschst Dir etwas Inspiration?

Als ich 2017 mein Gewerbe anmeldete, eiferte ich fleißig den großen Namen in der Szene hinterher und vergaß dabei, mir selbst treu zu bleiben. Was blieb? Migräne nach Fotoshootings, die nicht zu mir passten und ein konstantes Gefühl von "das ist nicht so richtig hier". Kennst Du das? Dann ist dieses Webinar für Dich richtig.

Worüber wir in diesem Webinar sprechen werden:

- Was ist Authentizität für mich?
- Wie finde ich heraus ob ich anderen hinterherlaufe oder meinen eigenen Weg gehe?
- Achtsamkeit beim Fotoshooting
- Praxisübungen zum Bauchgefühl-Fühlen
- Die eigenen Glaubenssätze aufdecken und bewusst machen
- Ethische Fragen: Wie verhindere ich Fotoshootings, bei denen ich mit dem Pferdeumgang nicht einverstanden bin?
- "Emotion beats Pferfection": Warum deine Fotos nicht 100% technisch perfekt sein müssen

Am Ende des Webinars erhältst Du natürlich kostenlos eine Aufzeichnung, damit Du es Dir immer wieder anschauen kannst - auch praktisch, wenn Du am Tag selbst nicht kannst!