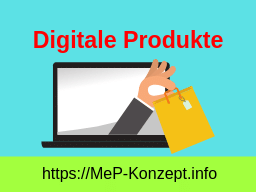 Digitale Produkte erstellen, wie geht das?
In Management > Project
Price:

19.00 € incl. VAT

Number of participants:

maximum 5

Application deadline:

2 hours before the start

Language:

German
Das fragt sich jede(r) Selbständige früher oder später. Auf der einen Seite begegnen sie Dir überall und Du möchtest endlich auch selbst welche anbieten.
Digitale Produkte erstellen - das ist auf der anderen Seite aber ein Buch mit sieben Siegeln für Dich. Was hältst Du davon, das zu ändern?

Verschaff Dir einen Überblick dazu, worauf es dabei ankommt. Im Webinar geht das ruck, zuck. Folgende Punkte besprechen wir dabei:

- Innere und äußere Hindernisse erkennen und beseitigen.
- Wie Du ein Thema für Dein digitales Produkt findest.
- Ebook, Kurs oder doch ein Webinar- was passt zu Dir?
- Technik ist keine Hexerei, trau Dich, auch Du kannst das!
- Geschafft. Das digitale Produkt ist fertig. Und jetzt?

Nach diesem Webinar weißt Du, wie es geht und kommst ins TUN. Wenn Du erst einmal verinnerlicht hast, wie das alles funktioniert, wird es Dir leicht fallen, Deine eigenen digitalen Produkte zu erstellen. Dann stellst Du Dir nicht mehr die Frage: Wie geht das? Sondern dann lautet Deine Hauptfrage: Was kann ich noch erstellen?

Welche Themen interessieren meine Kundinnen und Kunden sonst noch? Was wünschen sie sich außerdem noch von mir?

Fakt ist: Digitale Produkte erstellen ist einfacher, als Du denkst. Hört sich für Dich interessant an? Dann folge diesem Link und buch Dir Deinen Platz im nächsten Webinar!

Achtung, wichtige Hinweise:
Dieser Einführungspreis, in Höhe von 19 Euro, ist gültig bis zum 31.12.2018.
Ab dem 1. Januar 2019 gilt der Normalpreis von 39 Euro.