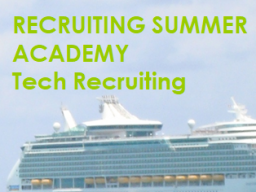 Tag 4 Tech Recruiting Summer Academy
In Occupation, Career > Recruiting
Video price:

for free

Video duration:

2 hours and 52 minutes

Language:

German
A recording of this webinar is available.
Am vierten Tag der TECH RECRUITING SUMMER ACADEMY geht es um die Frage: Kandidaten/Bewerber gefunden und nun?


Tech- / IT-Kandidatenprofile beurteilen
Interviews mit Tech / IT-Kandidaten - was geht, was nicht?
Was ist die Rolle der Fachabteilung/des Kunden?
Testverfahren für Tech / IT-Kandidaten
Reicht es auch, nur Kaffee mit den Kandidaten zu trinken?
Onboarding von Tech / IT-Kandidaten - sicherstellen, daß sie auch kommen!

u.a. mit

Matching meets Recruiting Tech Youngsters mit passender Persönlichkeit finden



Seit Herbst 2017 geht ZEIT CAMPUS ONLINE mit dem Matching-Tool BOA neue Wege im Recruiting. Auf Basis eines wissenschaftlich fundierten Persönlichkeitstest und einem bereits preisgekrönten Matching-Verfahren bringt BOA Unternehmen und Kandidaten zusammen, die nicht nur fachlich sondern auch persönlich zueinander passen.

Die Köpfe hinter BOA erzählen, wie Tech-Recruiter mit dem BOA-Matching die richtigen Kandidaten finden.


IT - Kandidaten wie am Fließband bekommen?

How to create a tech candidate conveyor belt by nurturing tech talent over the long term

In recruitment, we are mostly working on today's vacancies but it has been proven that you can reduce your talent sourcing workload substantially by planning in advance and creating talent pipelines. To do so, you need to nurture your candidates with compelling content which is first relevant and useful for their careers and second, invites them to consider your organisation as an employer. Although technology is needed to automate this at scale, during this session, Adam Gordon will talk through some of the many practical things you can do yourselves to nurture talent and begin to create talent pipelines.