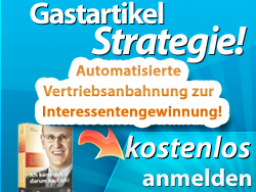 Gastartikel Strategie: Bekanntheitsgrad erhöhen, Googles Seite 1 dominieren, Interessenten gewinnen!
In Marketing, PR > Internet marketing
Language:

German

Video price:

for free

Video duration:

2 hours and 2 minutes
A recording of this webinar is available.
Sehen Sie sich dazu das Video an:
http://system.lead-motor.com/f/57536/

Robert Nabenhauer zeigt Ihnen Schritt-für-Schritt, wie Sie:

- mit Gastartikeln Ihre Reputation aufbauen,
- dadurch Ihren Bekanntheitsgrad erhöhen,
- und Googles Seite 1 dominieren.

Sie automatisieren mit dieser einfachen Methode Ihre Vertriebsanbahnung. Sie reduzieren Ihren Aufwand Angebote zu schreiben, um 30% und können gleichzeitig 50% mehr Aufträge gewinnen. Auch wenn Sie es nicht glauben können oder noch nie getan haben.

Dies ist der schnellste Weg, den ich in meinem eigenen PreSales Marketing nutze, wie auch Sie durch automatisierte Vertriebsanbahnung kaufbereite Interessenten gewinnen.