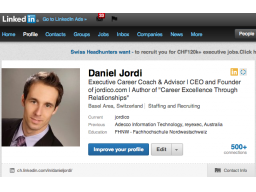 In this 60-minute live Webinar you will learn:

-Why the LinkedIn Profile is one of the Most Underused Places to Get Interviews From
-To Optimize Your LinkedIn Profile to be Found by Recruiters
-How to Make Recruiters Call You When They See Your LinkedIn Profile

At the End of the Webinar there will be a Q&A session where you can ask all your questions.

Start is on Wednesday, 13th March 2013 at 7pm CET.
Register now for the Webinar, space is limited!