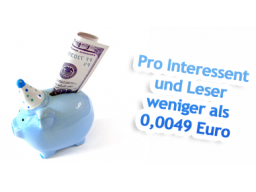 Kennen Sie die günstigste Werbemöglichkeit der Welt?
In Marketing, PR > PR
Language:

German

Video price:

for free

Video duration:

1 hour and 46 minutes
A recording of this webinar is available.
OO-PR = Das ONLINE-ON-BLOCK PR System
Eine Entwicklung des Werbetherapeuten Alois Gmeiner und seit mehreren Jahren erfolgreich im Einsatz.

Hier erhalten Sie mehr Info dazu - klick

Die Erfolge von Kunden die das OO PR System nutzen, können sich sehen lassen:
• Einladung ins TV und Interviews im Radio
• Berichte im TV und im Radio
• unzählige Abdrucke in deutschen Leitmedien und Lokalmedien
• Steigerung der Zugriffszahlen auf der HP
• Nachfragesteigerung und Neukunden
• Hohe Findbarkeit im Internet
Dauerhafte Präsenz im Internet ohne Zusatz-, Schalt- oder Folgekosten

NUR € 0,005 für einen neuen Interessenten!

Wie das geht?

Das wird Ihnen der Werbe-Profi und 40facher Buchautor Alois Gmeiner zeigen!