Nah & fern - Frauchen online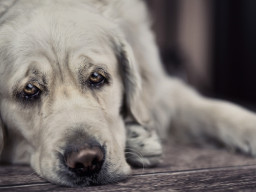 Angst oder Schmerz? Oder beides?
In Animals > Animal keeping
Video price:

35.00 €

Video duration:

1 hour and 37 minutes

Language:

German
A recording of this webinar is available.
Wir leben nun schon eine Weile mit Angsthunden zusammen. Und immer wieder ergibt sich folgende Situation: der Hund kauert z.B. zitternd und hechelnd im Sessel. Hat er nun Angst? Oder tut ihm etwas weh? Eine schwere Entscheidung. Denn Schmerz hat ähnliche Symptome wie die Angst.

Deshalb geht es in diesem Webinar um den Schmerz & Angst.

- Was ist Schmerz überhaupt? Wie zeigen Hunde Schmerz?
- Wie wird Schmerz im Körper weitergeleitet und verarbeitet? Gibt es Ähnlichkeiten zu den Wegen der Angst?
- Können Schmerzen die Ursache für Angst sein oder umgekehrt?
- Muss ein Angsthund immer auf Schmerzen untersucht werden? Und wenn ja, wie sieht ein solche Untersuchung aus?
- Was gibt es derzeit für Schmerzmittel für Hunde?

Dieses Webinar richtet sich an alle Hundemenschen, die sich für dieses wichtige Thema interessieren. Es gibt einfache Erklärungen und auf Fachchinesisch wird verzichtet.

Die Webinarfolien werden nach dem Webinar bzw. kurz vor dem Webinar zur Verfügung gestellt. Jeder Teilnehmer erhält eine Teilnahmebestätigung.