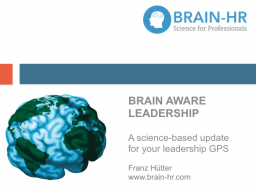 BRAIN AWARE LEADERSHIP. A science-based update for your leadership GPS.
In Management > Knowledge
Date:

on request

Language:

English
While it has become a self-evident necessity for all of us to keep our navigation devices up-to date, the roadmaps and algorithms implicitly controlling our corporate leadership behaviour are rarely ever renewed.

Passed on from management generation to management generation, a more than 100 years old behaviouristic carrot and stick psychology keeps eroding the intrinsic motivation of employees. An even older Tayloristic division of management and staff responsibilities keeps decision processes laborious and reaction times slow - despite of all the fine talk about lean management. Finally, a mechanistic, tool- and skill-based approach to leadership developent keeps haunting old corporations and start-ups alike. By providing ever new management methods and tools, the training and consultancy industries (i.e. people like me) create a false sense of security by suggesting the "technical feasibility" of motivation, collaboration, conflict resolution, innovative thinking and other psychological processes traditionally targeted by leadership behaviour.

However, the old management by objectives and incentives, the cumulation of (necessarily) backward-looking "best practices" and the explosion of ever new "management tools" are becoming more and more dysfunctional in companies relying on the agility, intrinsic motivation, and self-organisation of highly intelligent, disruption-proof people.

Franz Huetter's interactive keynote gives you a brief, enjoyable and practice-oriented update of the current research in the fields of leadership psychology, motivational and social neuroscience and systems theory. In a varied programme based on theory impulses and practical exercises, he suggests viable future directions of leadership in our complex and volatile business environment. A particular focus is placed on the development of "meta competencies" such as self-efficiacy, self-responsibility and self-organization, which are the result of personal development rather than of learning a new set of teachable skills.

Although his plea for replacing management and human resources training by corporate psychotherapy is not to be taken too literally, it contains an element of truth: in a market environment characterized by a large extent of unpredictability and uncertainty, personal and organizational maturity are becoming more decisive success factors than a pre-defined set of skills that might be outdated tomorrow.

Franz Hütter teaches Applied Cognitive Neuroscience at the University of Applied Management in Ismaning and Neuroleadership at the Frankfurt School of Finance and Management. He is the author of books on brain-friedly change management (Change Happens, Haufe 2015), on brain-based human resources development (Neurodidaktik, managerSeminare, 2017) and of numerous specialist articles on translational science for managers and HR professionals. Above all, his big treasure of hilariously striking examples comes from years of hands-on experience in applying science to change management, leadership development and consulting.