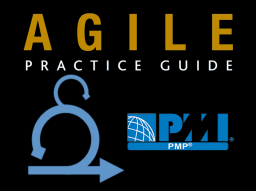 Intro: PMBOK® Agile Practice based Training
In Management > Project
Date:

on request

Language:

English
Do you want to develop further in Agile project management? You want to better understand and participate? Dear friends of Agile project management, we constantly held webinars on the PMI PMBOK Agile Practice, PMI-ACP® and other Agile practices. We train people, train PMI exam prep content / questions and create eLearning content.

In this webinar I take you through the most important changes of the PMBOK® 6th edition and explain in detailed overview the Agile Practice Guide and the seminar/webinar.

The Agile Practice Guide contains the following sections:
- Introduction to Agile
- Life Cycle Selection
- Creating an Agile Environment
- Delivering in an Agile Environment
- Organizational Considerations.

The webinar goes along into that and answers the questions as an overview and orientation:
- Traditional predictive project management vs. Agile project management
- What is provided by the guide and what not
- Differences between Agile practice levels (PMI-ACP, Scrum, SAFe, ) and the PMBOK Agile Practice.
- 1 day Seminar / 4*2h Webinar offer to get trained in Agile Practices according to the PMBOK Agile Practice Guide.


If you do not want to register at edudip, please send a message with your full real name to ritz@ritzeng.com. A direct application access possibility will be sent to you.

If you want to become active in the webinar, please see the 4 minute introduction before the Webinar.

We are looking forward to welcoming you to our webinar. More informations about PMBOK Agile Practice Guide: https://www.pmi.org/pmbok-guide-standards/foundational/pmbok/sixth-edition .
More additional information and registration you can get from the STS website: http://sts.ch/en/products .