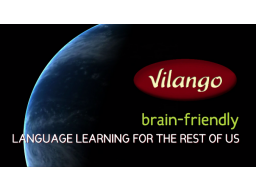 VILANGO - Brain friendly language learning - The Birkenbihl Approach
In Language courses > English
Language:

English

Date:

on request
VILANGO - Brain friendly language learning - The Birkenbihl Approach.

Learn more about the revolutionary method and the absolute cool way to learn a foreign language.
Have fun and enjoy how it works!

Contents of the eSeminar:

- The Birkenbihl Approach
- Computer language courses
- Application of the Birkenbihl Approach to your own texts

In this eSeminar you will identify the difference between the Birkenbihl Approach and other language learning methods. The Birkenbihl Approach is simple, efficient, lots of fun and will help you to progress quickly. Grammar, vocabulary, intonation and pronunciation will get into your brain subconsciously.

Learn how to use the Birkenbihl Approach for foreign language learning and experience the ease-of-use of the special computer programs.

You want to use your own texts? Go ahead! The Birkenbihl Approach may be used to work on any text. To strengthen your knowledge about the learning process according to Birkenbihl, register for free participation in this eSeminar!