schink-kantoku Kathrin Schink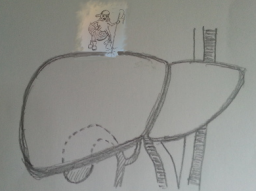 Was ist denn Dem über die Leber gelaufen?
In Health, Medicine > Healing practices
Language:

German

Number of participants:

maximum 50

Price:

for free

Video price:

for free
A recording of this webinar is available.
Wer denkt schon voller Freude an seine Leber? Wer interessiert sich dafür ohne Not?

Hoffentlich jeder von uns. Und dann noch, wenn wir Wissen über dieses Organ pauken: als Medizinstudenten, angehende Heilpraktiker oder Krankenschwestern.

Ich wünsche uns viel Spaß und Freude dabei. Mit Reimen gestaltet sich das Lernen leicht. Lustige Bilder helfen uns das Wissen positiv zu besetzen und damit sicher zu verankern. So bleibt Prüfungsstress aus.

Wer sich der Leber einfach interessehalber oder aufgrund von gesundheitlichen Problematiken zuwendet, wird auf der Basis dieses Webinars in den nachfolgenden Terminen feststellen, dass Heilungsimpulse gesetzt werden. Wir beleuchten unser größtes Organ aus Sicht der Schulmedizin, der Chinesischen Medizin und der antroposophischen Sicht. Omas Sprüche kommen ebenso zu Gehör, wie spirituelle Sichtweisen.

Die Leber wird Hepar genannt.
Mit 1,5 Kilo liegt sie schwer auf der Hand.
Sie liegt vorwiegend im rechten Oberbauch.
Vom Bauchfell umgeben ist sie auch.

Also: Wann ist Ihnen die letzte Laus über die Leber gelaufen?

Herzlich Willkommen!

Wichtige Hinweise
Dieses Webinar wird aufgezeichnet. Falls Sie in der Aufzeichnung nicht erkannt werden möchten, können Sie die Sichtbarkeit Ihres Profils in den Profileinstellungen ändern.

Mit der Teilnahme am Webinar erklären Sie sich damit einverstanden, dass der Veranstalter sowohl Bild- als auch Tonaufnahmen machen kann und genehmigen, ohne Anspruch auf Vergütung, die eventuelle Verbreitung der Aufzeichnungen über das Internet oder andere Kommunikationswege.
Dial-in available
Information: How the telephone dial-in works