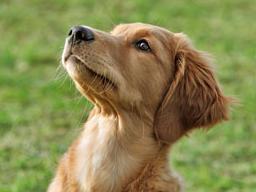 BARF für Welpen und Junghunde - Wie richtig füttern?
In Animals > Animal nutrition
Language:

German

Number of participants:

maximum 20

Application deadline:

5 days before the start

Price:

29.00 € incl. VAT
Eine ausgewogene, bedarfsgerechte Fütterung ist der Grundstein für ein gesundes Hundeleben. Was könnte da besser geeignet sein als BARF?

Inhalte dieses Webinars:

- Anforderungen und Besonderheiten der Ernährung bei Welpen und Junghunden

- Nährstoffbedarf

- Gewöhnung von Welpen an Rohfutter

- Zusammenstellung und Aufbau der Fütterung

- Rationsanpassungen beim wachsenden Hund

- Wie sollte gesundes Wachstum aussehen?

- Häufig gemachte Fehler (Und wie sie gar nicht erst entstehen)


Am Ende des Webinars bleibt genug Zeit für Fragen.
Grundzüge der BARF-Fütterung zu kennen, kann vorteilhaft sein, ist aber keine Voraussetzung.
Dial-in available
Information: How the telephone dial-in works