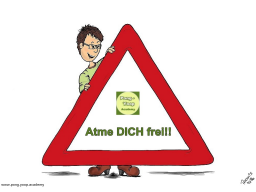 Theorie und Praxis: Pong Yoop "Atme DICH frei"
In Personality > Self-management
Language:

German

Number of participants:

maximum 10

Application deadline:

2 hours before the start

Price:

15.00 € incl. VAT
Die meisten Menschen atmen so unbewusst und kraftlos, dass sie von der magischen Kraft des wahren Atmens keinen Nutzen ziehen.
In einer Welt, in der scheinbar alles kränker, komplizierter und unruhiger wird ist die richtige Atmung der Schlüssel für ein gesundes, glückliches, zufriedenes und selbstbestimmtes Leben. Die Pong Yoop Academy wendet sich an Alle, die aktiv ihr Leben in die Hand nehmen wollen und das NUR mit der Kraft des Atmens!
In diesem Webinar lernst du die Theorie über Pong Yoop kennen und wir steigen auch gemeinsam in die Praxis ein! Die Teilnahme ist begrenzt auf 10 Personen.
Deine Vorbereitung fürs Webinar:
Ablenkungen ausschalten, Taschentücher bereit legen und ein großes Glas Wasser hin stellen.