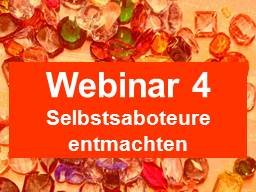 Glaubenssatz-Challenge #4: Ab in die Wüste, Selbstsaboteure entmachten!
In Personality > Self-management
Language:

German

Video price:

for free

Video duration:

1 hour and 19 minutes
A recording of this webinar is available.
gratis Challenge vom 18.6. - 8.7.2016 von Wera Nägler

In Webinar 4 sorgt Barbara Steldinger als Expertin der Challenge dafür, dass wir gut durchstarten.

Sie machen uns das Leben schwer und werfen uns immer wieder aus unserer Mitte. Sie verhindern oft sehr wirkungsvoll, dass wir unser Potential richtig voll entfalten können. Wer? Die Selbstsaboteure, die Jede/r in sich hat. Wir entlarven einige der Schlimmsten und ich zeige, wie man auf dem schnellsten Wege ausgerichtet und in die eigene Mitte kommt.