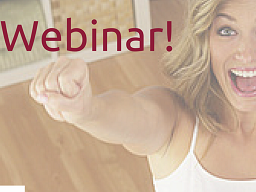 Endlich schlank!
In Health, Medicine > Exercise
Language:

German

Video price:

for free

Video duration:

1 hour and 17 minutes
A recording of this webinar is available.
Diät und Jojo sind dicke Freunde. Allerdings gibt es Wege, dauerhaft abzunehmen und das Gewicht zu halten.

Warum Diätrezepte allein nicht ausreichen, um dauerhaft abzunehmen?
Es gehört noch mehr dazu.
Das verrate ich unter anderem im Webinar:
-Die richtige Ernährung: "Lieber das Essen umstellen anstatt strenger Diät
-Mentales Coaching:"Denn Du musst Dein Denken verändern, um etwas zu verändern!"

Abnehmen beginnt im Kopf und das was Du über Dich denkst, ist das, was nachher passieren wird.

Ich verrate Dir die drei wichtigsten Elemente, um das Gewicht zu erreichen, dass Du Dir wünscht.

Lerne die Technik, die Dich zu Deinem Wunschgewicht führt.

Im Anschluss an die Präsentation gibt es eine offene Fragerunde.

Diese Präsentation ersetzt keine ärztliche Beratung und die Umsetzung erfolgt auf eigene Gefahr.