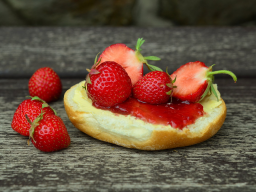 Frühstück ist fertig...
In Health, Medicine > Nutrition
Language:

German

Number of participants:

maximum 25

Application deadline:

2 hours before the start

Price:

19.00 € incl. VAT

Video price:

19.00 € incl. VAT

Video duration:

29 minutes
A recording of this webinar is available.
* Frühstück: die schönste aller Mahlzeiten. Man ist ausgeruht und jung, hat sich noch nicht geärgert und ist voll neuer Hoffnungen und Pläne. *
Heinrich Spoerl


Wozu zählst du dich?

Bist du der Morgenmuffel, der mit einer Tasse Kaffee auskommt?
Bist du jemand der ohne Frühstück aus dem Haus geht?
Oder bist du ein Frühstücks-Genießer?

****************

Du erfährst:

* Welche Bedeutung dem Frühstück in unserer heutigen Zeit zukommt
* Was dein Körper wirklich am Morgen braucht
* Wie ein gesundes Frühstück aussehen kann und
* ob du wirklich jeden Morgen etwas essen musst

*****************

Ich gebe dir 10 leckere Ruck-Zuck-Frühstücksrezepte .

Ob süß oder herzhaft, mit ihnen kannst du ohne viel Aufwand in den Tag starten.

Übrigens, auch unsere Promis wissen Frühstück zu schätzen:-)

* Das Frühstück ist die wichtigste Mahlzeit des Tages - sagt Brad *
Angelina Jolie

*******************

Die Rezepte gibt es im Anschluß als Download.