Deine ERFOLGS-Akademie - co.cept®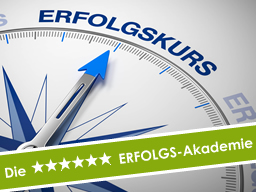 Erfolgreich verkaufen mit Konzept.
In Sales > Customer relationship
Language:

German

Number of participants:

maximum 10

Application deadline:

2 hours before the start

Price:

for free

Video price:

4.90 € incl. VAT
A recording of this webinar is available.
Dieses Webinar ist der Einstieg in dein erfolgreiches Gespräch. In dem Webinar spreche ich über die folgenden Themen:

* Ziele richtig setzen und erreichen
* Die eigenen Prioritäten überprüfen
* Das Verlassen der Komfortzone
* (Körper-)Sprache und
* Sicherheit in Gesprächen erlangen

 
Du bist hier genau richtig, wenn du...

* noch erfolgreicher verkaufen willst
* deine Ziele erreichen willst
* deinen Gesprächspartner verstehen willst
* mehr Sicherheit erreichen willst

Erziele auch du mehr Erfolge durch mehr Persönlichkeit in deiner täglichen Arbeit. Du lernst anhand praxiserprobter Techniken die wichtigen Erfolgsfaktoren Ziele und Prioritäten, (Körper-) Sprache und Sicherheit kennen.

Erlebe spannende Minuten Erfahrungen aus Vertrieb und Führung mit viel Praxisbezug!

Organisatorisches.

- Bitte prüfe dein System rechtzeitig vor deiner Teilnahme am Webinar! Zum edudip-Systemcheck: https://www.edudip.com/selftest

- Bitte finde dich ca. 10 Minuten vor Beginn im Webinarraum ein, um dich mit diesem vertraut zu machen. So können wir mit einem guten Gefühl pünktlich starten.
Dial-in available
Information: How the telephone dial-in works