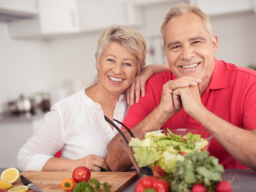 Die Kunst des Abnehmens über 40 und wie auch du es schaffst!
In Health, Medicine > Nutrition
Language:

German

Video price:

89.00 € incl. VAT

Video duration:

1 hour and 55 minutes
A recording of this webinar is available.
10 Erfolgsregeln mit denen du eine gute Figur machst.

Denkst du auch: Abnehmen jenseits der 40 geht schwer?

Ich war auch schon Ü40 als ich 25 kg abgenommen habe und das mit dauerhaften Erfolg!

***********************************

Wie du es auch schaffst, erfährst du in meinen beiden Seminaren.
Nicht nur die richtige Ernährung, sondern auch das Verständnis, welche Lebensmittel gesund sind, und welche eben nicht, entscheiden über dein Wunschgewicht

***********************************

Du lernst

In Teil1:

- wie deine Gedanken dein Gewicht beeinflussen
- was der Spruch: *wer schreibt der bleibt* mit Abnehmen zu tun hat
- wie die schöne bunte Welt der Chemie dein Essverhalten verändert
- wie du fit durch Fett wirst
- wieviel Stück Würfelzucker sich in deinen Körper schleichen

In Teil 2:

- wann du deinen Stoffwechselmotor starten musst
- wie die Fülle von Mutter Natur dir hilft
- warum du deine 70 Millionen Körperzellen täglich duschen sollst
- was schneller satt macht als Kohlenhydrate und Fette
- warum der letzte Parkplatz deiner ist

Zusätzlich erhältst du Rezeptideen, Hinweise für deinen Tages-Speiseplan und was du für eine "Notfall(Ernährungs)Apotheke" brauchst.


Die wichtigsten Tipps bekommst du im Anschluss als Download.

Melde dich jetzt an, ich freue mich auf dich!