Spagyrik Akademie von HP Hans Gerhard Wicklein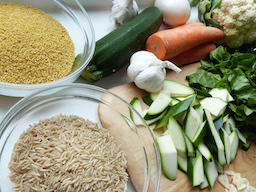 Warum vegan? Und wenn, dann aber richtig!
In Health, Medicine > Nutrition
Language:

German

Video price:

19.00 €

Video duration:

1 hour and 37 minutes
A recording of this webinar is available.
Warum überhaupt vegan? Warum vegan nicht gleich vegan ist. Warum 95% aller publizierten veganen Rezepte trotzdem Mischkost darstellen und nicht gesund sind. Warum uns traditionelle Mischkost krank und energielos macht. Warum richtig vegan die Basis aller Krebs-, Herz-, und Diabetesbehandlungen sein müsste. Warum uns Mischkost vorzeitig altern lässt. Warum wir ohne Probleme gesund 120 Jahre (bei täglich nur 700-900 kcal) alt werden könnten. Warum mit richtig vegan ohne Hungern die Pfunde wegpurzeln und Übergewicht für alle Zeiten ein Fremdwort ist. Warum der Mensch schon immer Frugivor (Pflanzenfresser mit Früchten) war. Warum wir uns anatomisch gar nicht als Carnivoren (Fleischfresser) eignen. Wie wir den Übergang zum Veganer sanft und richtig hinkriegen. Warum bei der Umstellung doch einiges zu beherzigen ist. Und Vieles mehr...

Hinweis: Dieses Webinar hat nichts mit Spagyrik zu tun! Dafür gibt es ein eigenes Seminar im Angebot.

Am Ende des Webinars lässt sich ein Skript downloaden. Das Webinar wird aufgezeichnet und kann (für Teilnehmer kostenlos) noch mehrere Male gesehen werden.

Der Termin kann leicht die 90 Minuten überschreiten, bitte daher ausreichend Zeit mitbringen.