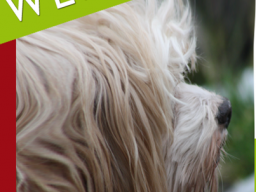 Hundesenioren - was sie brauchen, was ihnen wichtig ist.
In Animals > Animal keeping
Language:

German

Number of participants:

maximum 30

Application deadline:

15 minutes before the start

Price:

49.00 € incl. VAT
Abenteuer, Herausforderung, Geschenk !

Was ist Ihr Hundesenior für Sie ?

Was hat sich bei Ihrem Hund verändert ?
Nächtliche Unruhe, Inkontinenz, Alterssturheit ?
Immer dabei oder lieber doch nicht ?
Braucht er mehr Nähe, weniger Bewegung oder anderes Futter ?

Hören Sie was Hundesenioren vermitteln und
machen Sie sich und Ihrem Senior den letzten Lebensabschnitt leichter.
Welche Hilfsmittel sind angebracht, wie kann die Naturheilkunde entlasten

Online Seminar
Dauer: 2 x 75 Minuten

Erfahren Sie im Webinar was hilfreich ist und was Ihr Vierbeiner braucht um zufrieden zu sein.

>>> Anmeldehinweis:
Bitte melden Sie sich mit Klar-Namen an, d.h. mit Vor- und Nachnamen, bitte keine blockierten oder 'Inkognito' Profile.

Warum ?
In der virtuellen Welt gibt es schon genug Anonyme, Nicknames und Vornamen.
Die Achtsamkeit Mensch und Tier gegenüber sind mir wichtig sind und dazu gehört, dass wir voneinander wissen wen wir ansprechen.
Wenn das auch Ihre Meinung ist, freue ich mich wenn ich Ihnen die Sicht der Tiere ein wenig näher bringen darf.

Jetzt anmelden und mehr erfahren aus der Sicht der Tiere.