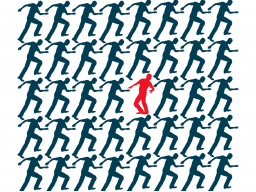 Karriere, oder was? - 3M Webinar
In Management > Knowledge
Language:

German

Minimal attendance:

6

Video price:

for free

Video duration:

1 hour and 1 minute
A recording of this webinar is available.
3M
Mut. Machen. Managen.


Glaubt man aktuellen Umfragen, so ist nur ein Bruchteil der Führungskräfte und Mitarbeiter in Deutschland wirklich zufrieden mit dem eigenen Arbeitsplatz. Ein Großteil hat innerlich bereits gekündigt oder ist auf dem Sprung zum Wettbewerb - oder in die Selbstständigkeit.

Gleichzeitig ist ein diffuses Bild von Karriere entstanden - zwischen Business Punks und Work-Life-Balance-Gurus ist es oft schwierig, dem eigenen Weg noch treu zu bleiben. Sofern er überhaupt noch bewusst verfolgt wird. Es ist ja auch normal geworden, sich "getrieben" oder "Land unter" zu fühlen - der Schritt "zur Seite" wird dann immer schwieriger.

Dieses Webinar bietet
- Spannende Fakten rund um aktuelle Karriere- und Arbeitsmodelle
- Einen Blick hinter die HR-Kulissen - und wie hart der War of Talents tatsächlich ist
- Ein Modell, Soll-Bruch-Stellen der eigenen Karriereplanung festzustellen
- Eine kurze aber intensive Auseinandersetzung mit den eigenen Werten

----------------------------------------

In jedem meiner 3M Webinare geht es um mutige und innovative Führung. Dazu gibt es zahlreiche Beispiele, Denkanstöße und Impulse.

Letztendlich muss jede Führungskraft am Ende des Tages selbst entscheiden, ob sie den Mut-Muskel

TRAINIEREN oder SCHONEN

will.