Akademie von Debora Correa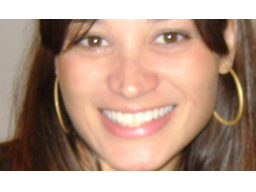 HOW TO WRITE E-MAILS: Ein effektives Englisch-Webinar! nur 10.00 €
In Language courses > English
Language:

English

Date:

on request
Hallo,

sind Sie bereit für die innovativste und effektivste Methode Ihr Englisch nachhaltig zu verbessern?

In einem einstündigen Englisch Webinar lernen Sie mit, Debora Correa mit der" Active Methodology"* (nach Howard Gardner) in alltäglichen Situationen besser zu unterhalten und neue Kontakte zu knüpfen.

>>>>>>>>>>>>>>>>>>
Dein Lernprogramm:

Problems writing e-mails in English? NOT ANYMORE!

A one-hour class for people who have some knowledge of English, but need to improve writing skills, get confident when writing to perform well in daily situations. In this class:

- you will be given attention to the way you already write, so then through analysis you can realize what you can already do and what you should definitely learn in order to avoid mistakes.

- you will get acquainted to typical and most common expressions used in e-mails nowadays.

- you will learn e-mail appropriate language that takes into account formal and informal writing

- you will have the opportunity to practice it in real life and get individual feedback on your performance.

A well-rounded program that will lead you to better e-mail writing

Sichern sie sich schnell ihre Teilnahme!

Sie haben zwar in der Schule grundsätzliche Englischkenntnisse angeeignet, diese aber selten im richtigen Leben eingesetzt und sind dadurch vielleicht ein bisschen "raus gekommen".

Wenn Ihnen also manchmal die Worte fehlen sollten, dann ist das Webinar genau das Richtige für sie.

Falls Du Dir nicht sicher bist, ob das Webinar Deinem Level entspricht, schicke uns einfach eine Email (deboraenglishteacher@yahoo.com) und wir schicken
Dir einen kleinen "Test", um zu prüfen, ob das Webinar zu Dir passt.

Sichern sie sich deshalb schnell Ihre Teilnahme und registrieren sie sich JETZT!



Kind regards

Debora

P.S Das Webinar wird auf Englisch gehalten, aber keine Sorge ;)

PSS Bei Bedarf gibt sie nach Absprache auch Privat und Gruppenunterricht für jedes Level.