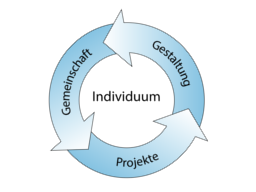 Holistic Community Building
In Management > Process
Language:

English

Date:

on request
Building a community can be challenging and exhausting. The holistic model for community building is a great way to deal with the different aspects of individual, community, projects and the design of living space and society. These aspects are very much connected and interdependent and have to be managed as an integrated system. The presented holistic model enables to
- manage the process of community building
- understand the patterns and dynamics of a community
- easily create a common vision with a group
- select the best tools for the different tasks
- set the right priorities
- find the critical points and the real roots for problems

During the webinar you will learn to know and use the model and corresponding tools. Participants will have the possibility to interact and ask questions using the chat tool.