Isabel Ockert - Online-Akademie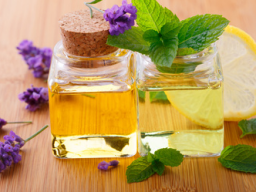 AromaVital-Küche: Ätherische Öle in der Küche - ein Hauch genügt !
In Health, Medicine > Nutrition
Language:

German

Video price:

12.00 € incl. VAT

Video duration:

1 hour and 30 minutes
A recording of this webinar is available.
Hochwertige Ätherische Öle werden in der alternativen Medizin und für ganzheitliches Wohlbefinden eingesetzt....

Diese natürlichen Substanzen eignen sich auch hervorragend als Würzessenzen in der Küche und sind wahre "Geschmacks-Toppings" auf dem Teller.

In diesem Webinar erhalten Sie Tipps von aromatisierten Schneidebrettern bis hin zu selbst hergestellten Gewürzölen als Geschenk aus der eigenen Küche.

Das Kochen mit Ätherischen Ölen ist eine besondere Ergänzung für Ihre gesundheitsbewusste Ernährung und die Substanzen wirken förderlich auf den Stoffwechsel und Verdauungsprozess ein.

Die Verwendung der Ätherischen Öle ist eine ideale Ergänzung oder als Ersatz für frische Kräuter und Gewürze....

Starten Sie nach diesem Webinar mit vielen praktischen Tipps in die eigene ArmoaVital-Küche !!!

Inklusive ausführliches Seminar-Script und ein Handout der PowerPoint-Präsentation als Download.