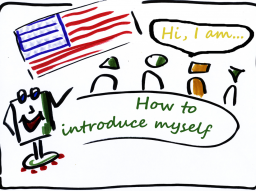 Do you know how to introduce yourself in English?

Welcome to our class of 5

During those 90 minutes we will work on your introduction.

You may use this introduction with new costumers, at exhibits, in meetings or other business gatherings.

This webinar is for you, if ....

- you speak English on a level of at least B2
- you use English in a business manner
- you need to introduce yourself in English
- you have a microphone and some 90 minutes to spare.

Why booking a webinar with me?

- speaking English is my daily job (and our family language is English)
- I have a degree in American studies (University of Tübingen)
- I am a trained rhetorician focusing on further education
- I have taught this lesson over and over in Skype sessions

How we will do it

1. sign up and reserve you slot
2. download and read the learning material
3. Practice the vocabulary in advance
4. be on time for the live webinar
5. speak up in the webinar

We will be using the function of video and microphone in this webinar. Please, choose whether or not you turn on your camera, but the microphone is mandatory for this session, since you will be speaking.

Focus of this webinar

I am convinced: practice makes perfect! That is why we will be reading, speaking and discussing how to introduce ourselves. You be using new material and practice your own wording. That way you will feel more comfortable introducing yourself in English.

You will be speaking - that is my promise. This webinar is for you and you will be speaking a lot in those 90 minutes. So please, make sure your environment allows you to speak and provides a quiet corner.


Testimonials from participants

Norbert Kunzel
SAP Beratung
"Sehr zu empfehlen. Sehr gute Lehrerin."

Harald Pfitzner
"Sehr gutes Telefontraining - da kann man als "Early Bird" mal ganz nebenbei sein Englisch auf Vordermann bringen. Sehr gezielt und sehr persönlich!"

Julia Grunwald

"Frau Torma hat einen Business English - Kurs gegeben, in dem sehr viel praktische Anwendungen vermittelt wurden, die auch weiterhin immer wieder Einsatz finden. Auf die gemeinsam erstellten Unterlagen bieten immer wieder ein gutes Nachschlagewerk. DANKE"