"HausLehrer" Akademie für Hausverwaltungen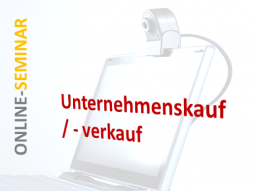 "Wie kaufe / verkaufe ich (m)ein Hausverwaltungs-Unternehmen?!"
In Real estate > Administration
Language:

German

Video price:

29.00 € incl. VAT

Video duration:

1 hour and 48 minutes
A recording of this webinar is available.
Wer sich schnell und einfach einen Überblick über dieses Thema verschaffen möchte oder selbst vor der Frage steht, ein Hausverwaltungs-Unternehmen zu kaufen oder zu verkaufen ist hier gut aufgehoben.

Mit den Themen:


Sammlung von Daten, Zahlen und Fakten, Checklisten
Harte" und weiche" Fakten
Entscheidungsebenen: privat, persönlich, finanziell, beruflich
Risikoberechnung
Ermittlung und Überprüfung des Unternehmenswerts
Standardwerte
Unternehmensbörsen und wo man Angebote finden kann
Unterschied zwischen steuertechnischer und wohnungswirtschaftlicher Wertermittlung
Verhandlungsführung- Sicherheit und Anonymität in der Verhandlungsphase
Gestaltung des Kaufvertrags
Übergabe-/Übernahmephase
praktische Problemstellungen sowohl des Käufers als auch des Verkäufers
Personal: Führung, Einbindung, Verantwortung

geben wir einen Überblick über das ansonsten als Tages-Seminar durchgeführte Angebot.


Ort: Vor Ihrem Computer


Preis p.Person 39,- € zzgl. MwSt.



Für die Teilnahme benötigen Sie lediglich einen internetfähigen PC inkl. Lautsprecher oder Kopfhörer (meist tun es hier die Kopfhörer vom MP3-Player oder vom Handy).

Alles andere erhalten Sie über die von uns zur Verfügung gestellte Online-Seminar-Software.

Bei Fragen zur Technik sprechen Sie uns vorher gerne unter 02104-776591 an oder führen hier bei edudip einfach den Technik-Check durch..