Wissen-ist-Macht.TV - Webinare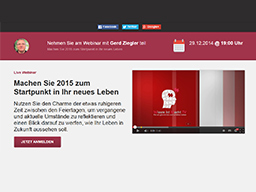 Machen Sie 2015 zum Startpunkt in Ihr neues Leben!
In Personality > Self-management
Language:

German

Video price:

10.00 € incl. VAT

Video duration:

1 hour and 11 minutes
A recording of this webinar is available.
Nutzen Sie die Ruhe zwischen den Feiertagen um über Ihr bisheriges Leben nachzudenken. Ob Sie da sind, wo Sie hin wollen, oder ob Sie zumindest auf dem richtigen Weg dahin sind.

Ob Sie glücklich sind, so wie gerade alles läuft und ob Sie einen Sinn in dem erkennen, was Sie gerade tun und last but not least, ob Sie allen wichtigen Bereichen Ihres Lebens genügend Beachtung schenken, oder ob Ihr Lebensrad eher unrund läuft.

Zum Jahresende veranstalten wir, als Dank für alle, die uns und unsere Beiträge auf Wissen-ist-Macht.tv, begleitet und unterstützt haben, dieses Webinar - und natürlich wollen wir nicht nur darüber nachdenken, was alles war, sondern auch darüber, was in Zukunft anders werden soll, wo Sie hinwollen, wie Sie da hin kommen und was Ihnen möglicherweise im Weg stehen könnte.

Machen Sie 2015 zum Startpunkt in ein neues Leben - in ein Leben nach Ihren eigenen Vorstellungen. Ich freu mich auf Ihre Teilnahme.