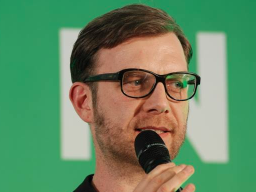 Einfach leben und zukunftsfähig Handeln. Highlights & Erfahrungen aus 7 Jahren KarmaKonsum.
In Personality > Others
Language:

German

Video price:

for free

Video duration:

1 hour and 44 minutes
A recording of this webinar is available.
Das Thema Nachhaltigkeit ist in der Mitte der Gesellschaft angekommen: Ein wachsendes Umweltbewusstsein und eine zunehmende Konsumentenverantwortung prägen das Bild an der Ladentheke und am Arbeitsplatz. Neue Lebensstile im Kontext der Gesundheit und Nachhaltigkeit spielen bei der Transformation vom "Ego-" zum "Eco-Bewusstsein" eine zentrale Rolle.

Christoph Harrach hat mit KarmaKonsum, einem offiziellen UNESCO-Projekt für nachhaltige Bildung, in diesem Kontext in den letzten sieben Jahren eine meinungsführende Rolle übernommen.

Der Vordenker und KarmaKonsum Gründer wird in diesem Webinar seine beruflichen und persönlichen Erfahrungen im Umgang mit dem inneren und äußeren Wandel reflektieren. Über Geschichten, Beispiele und Übungen wird er im Webinar konkrete Impulse liefern, im Alltag bewusster, nachhaltiger und gesünder zu leben und zu wirtschaften.