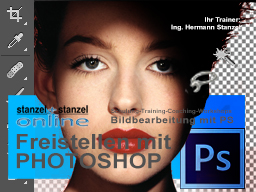 PHOTOSHOP - Objekte freistellen wie die Profis!
In Design > Graphic design
Language:

German

Video price:

5.00 €

Video duration:

1 hour and 53 minutes
A recording of this webinar is available.
Photoshop als professionelles Bildbearbeitungsprogramm bietet unglaubliche Möglichkeiten Bilder zu bearbeiten, manipulieren und zu optimieren.

Photoshop ist "der Standard" in der Branche wenn es um professionelle Bildbearbeitung geht.

Der Workshop zeigt Dir in einfachen Schritten grundlegende Funktionen, wie Du Bilder freistellen kannst.

Du wirst staunen wie einfach es ist Objekte mit der "elektronischen Schere" auszuschneiden, alleine, nur wenn Du die richtige Technik beherrschst.

Freistellen ist immer der Ursprung für jedes Bildcomposings und jede Bildmontage.

Inhalte:
- Diese 3 Fehler die Du unbedingt beim freistellen von Bildern vermeiden musst.
- die unterschiedlichen Freistelltechniken.
- wie Du Texte in Bilder integrierst.
- Tipps und Tricks für gekonntes Freistellen wie ein Profi.