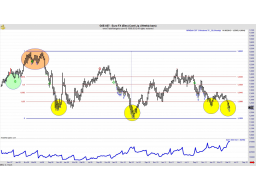 Die COT Reporte der CFTC effektiver nutzen!
In Finance, Taxes > Stock exchange
Language:

German

Minimal attendance:

10

Video price:

for free

Video duration:

1 hour and 45 minutes
A recording of this webinar is available.
An den Aktienmärkten erleben wir es immer wieder, wer die richtige Aktie zur richtigen Zeit kauft, wird reich. Es gibt verschiedene Strategien, wo der Anleger langfristig und konstant erfolgreich ist.
Doch egal welche Methode man verwendet, es steckt viel Arbeit und Ausdauer dahinter. Viel leichter wäre es doch, wenn uns jemand den richtigen Tipp geben würde, vielleicht der Chef von Google, Yahoo oder einer anderen börsennotierten Firma. Alle unsere Kauf- und Verkaufsentscheidungen wären richtig. Sie denken ein Traum, nur machbar von den Vorständen und Firmeninhabern selber? Richtig und doch gibt es eine Möglichkeit, zu rechten Zeit das Verhalten der Insider zu erkennen.