"HausLehrer" Akademie für Hausverwaltungen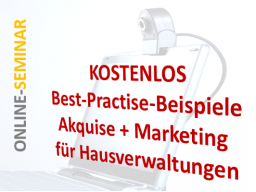 So sieht ERFOLGREICHE AKQUISE für Hausverwaltungen aus!
In Real estate > Administration
Language:

German

Video price:

for free

Video duration:

1 hour and 27 minutes
A recording of this webinar is available.
Best-Practise-Beispiele für wirklich erfolgreiche Instrumente und Möglichkeiten der Akquise in der Hausverwaltung!

Präsentiert vom "Verwalter-Berater"


Akquise für Hausverwaltungs-Unternehmen ist soooo unendlich schwer ... wenn man den Aussagen der Verwalter glaubt!

Vermieter, Eigentümer und Beiräte auf sich und seine Leistungen als Hausverwaltung aufmerksam machen ... und dafür sorgen, dass man sich im Wettbewerb abgrenzt.

Wie und womit erreiche ich dieses Ziel, werden Sie sich fragen?

Die Antworten darauf erfahren Sie in diesem Online-Seminar, in dem wir Ihnen die besten Beispiele + Tipps rund um die wirklich erfolgreiche Akquise und das Marketing für Hausverwaltungen vorstellen.

Diese Instrumente + Tipps stellen die Quintessenz dessen dar, was ich als HausLehrer, sprich Berater für Hausverwaltungen, in mehr als 14 Jahren der Beratung meiner ehemaligen Kollegen an Lösungen entwickelt und erfolgreich umgesetzt habe.

Wenn auch Sie von diesen Tipps profitieren und sich zukünftig im Wettbewerb mit Ihren Kollegen durchsetzen und den Kampf um den Kunden gewinnen möchten, dann ist die Teilnahme an diesem Seminar für Sie Pflicht.

Oder möchten Sie nicht mehr Erfolg in der Kundengewinnung als Hausverwaltung?

Dieses Online-Seminar findet statt am

Donnerstag, 31.03.16 in der Zeit zwischen 11 und 12.30 Uhr

Für die Teilnahme benötigen Sie lediglich einen internetfähigen PC inkl. Lautsprecher oder alternativ Kopfhörer (meist tun es schon die Kopfhörer Ihres Mobiltelefons). Alles andere liefern wir über die Veranstaltungsplattform edudip.