Academy of Therese Wenk - healingconnection.ch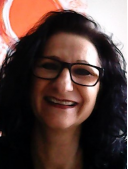 Therese Wenk healingconnection.ch
(14)
The contact option is only available for registered members
About me
Hi dear, I am a channel for the amazing healing frequencies of our source. If you are looking for a new level of well being, I would love to assist you in this process to reconnect you with your unique soul's frequency. This new access allows you to balance, heal and step into more of who you truly are. You can also book me for soul-coaching sessions to unlock the treasures of your soul.
I am a Reiki Master, Esalen Massage Therapist for more than 25 years but since I got in touch with these frequencies, my own life, as well as the lives of my clients, has improved and changed in the most magical and profound way.
I am looking forward to connecting with you, with love Therese
I am searching for:
People who want to access their inner treasures and step into self-empowerment - into the freedom of being truly you.
Offer:
Long distance healing sessions and sensitive Soul Coaching to unlock the treasures of your soul.
book me on my website or contact me on Facebook
Specialised in:
Reconnective Healing, Sensitive Soul Coaching
Description:
To get in touch with the frequency of your soul is such a profound and life improving experience on your unique journey home. I am happy to be of service if you are looking for a way to get in touch with your truth, love, health, balance and happiness.