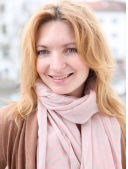 Lifestyle- und Energieberaterin Nina Pister
(17)
The contact option is only available for registered members
About me
Ich bin staatlich anerkannte Heilpraktikerin für Psychotherapie, Coach für Persönlichkeitsentwicklung und Lebensberaterin.
I am searching for:
Unternehmer, Selbstständige, Freiberufler und Existenzgründer, die ihre Existenzängste auflösen wollen. Zu den Existenzängsten gehören unter anderem Angst Preise zu erhöhen, Kunden verlieren, keine Kunden bekommen, Angst vor der Konkurrenz, Angst das Geld zu verlieren usw.
Offer:
Alternative Heilmethoden zur Auflösung der Blockaden. Die erste Methode ist die Systemische- und Familien Aufstellung und das zweite Werkzeug ist die The Work of Byron Katie.
Specialised in:
Ängste, SEIN Zustände, Geldthemen.