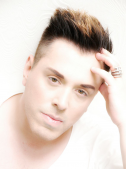 Malkiel Rouven Dietrich
(77)
The contact option is only available for registered members
About me
Malkiël Rouven Dietrich


Malkiel Rouven Dietrich was gifted with the art of divination in the cradle. He has an inherited supernatural gift. His family engaged in the art of prophecy for generations. It was his grandmother who taught him the basics of classical astrology, card reading, and fortune telling at a young age. Later, he deepened his knowledge studying astrology.

Twelve years ago, he opened his parlor in Berlin. He ran an astrological training and consulting institute in Baden-Baden, Germany along with his practice in Berlin. Malkiel Rouven Dietrich distinguishes himself with his predictive fortunetelling and his precise statements. He places emphasis topic-oriented, empathetic, yet direct advice. He is now among the best known and most popular astrologers and soothsayers in Germany. Many celebreties depend on Malkiel Rouven Dietrich's advice and visit his Wilmersdorfer practice.

In his work, he focuses not only on counselling clients, but also training new psychics. He regularly shares his knowledge in seminars. Private clients and companies depend on Malkiel Rouven for advice. Malkiel Rouven Dietrich has regularly appeared on spiritual TV shows for years.