Akademie von Gerald Pitschek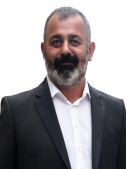 Gerald Pitschek
(0)
The contact option is only available for registered members
About me
The Content Guy. Digital Strategist, Productivity and Enterprise Collaboration Expert. Since 1992... Principal Consultant, Speaker and Author to #ECM, #Collaboration and #BPM.
I am searching for:
An Enterprise-Content-Management, Content-Management, Business-Process-Management, Workflow-Management und Collaboration interessierte Mitarbeiter und Führungskräfte von Unternehmen aus dem gesamten DACH-Bereich.
Offer:
Ich biete seit 1992:
- herstellerneutrales Consulting, Coaching von der Initiierung über die Konzeption bis hin zur Auswahl/Ausschreibung und Projektbegleitung
- Ausbildung - Workshops, Seminare und Webinare
- Veranstaltungen - Konferenzen, Symposien
- Reports und Marktanalysen bzw. Marktstudien
Specialised in:
Enterprise-Content-Management, Business-Process-Management, Collaboration, Digitalisierung, Workflow-Management, Content-Management, Web-Content-Management, Digitale Akte, Elektronischer Posteingang, Capture (Scannen), Output-Management
Description:
Gerald A. Pitschek, Eigentümer und Principal Consultant von Pitschek+Partner, ist namhafter Experte rund um die Themen des Geschäftsprozessmanagements, der Verwaltung und Speicherung elektronischer Dokumente sowie der Digitalisierung von Unternehmen. In seinen Beratungs- und Ausbildungsschwerpunkt fallen die IT-Themen BPM, Workflow-Management, Prozess- und Organisationsmodellierung, Enterprise-Content-Management und Dokumenten-Management, Archivierung, Collaboration, Intranet sowie Enterprise-Communities/Enterprise-Social-Networks.

Seit 1987 hält Gerald A. Pitschek gemeinsam mit Partnern zu den angeführten Fachthemen nationale und internationale Veranstaltungen ab. In mehr als 200 solcher Veranstaltungen wurden über 4000 Führungskräfte aus Österreich, Deutschland und der Schweiz aus- und weitergebildet. Seit 1992 organisierten und initiierten wir Konferenzen, Symposien und Fachmessen.